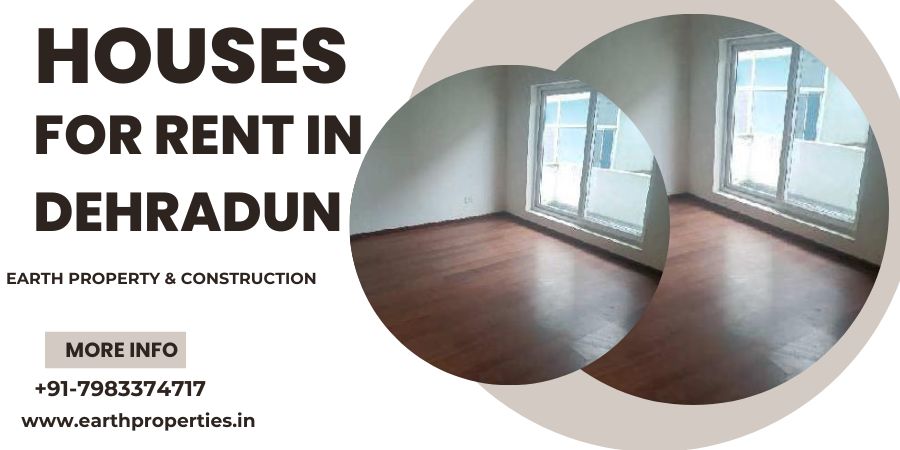 Dehradun is a city with a perfect balance of natural beauty, a pleasant climate, and a rich cultural heritage. It is located in the scenic foothills of the Himalayas. The capital of Uttarakhand and the "Gateway to Mussoorie," Dehradun, has become a popular vacation spot for tourists. This article assesses the procedure of looking for Houses for Rent in Dehradun. It is showcasing the variety of choices available and offers helpful insights to make an informed choice.
Calm Retreat Among the Beauty of Nature
Dehradun is well known for its picturesque vistas, verdant environs, and quiet atmosphere. It provides relief from the bustle of city life. One may experience the wonders of nature just outside their door when looking for Houses for Rent in Dehradun. The rental options accommodate different tastes, ranging from little cottages hidden among the hills to roomy flats.
Rajpur Road, Mussoorie Road, and Sahastradhara Road, for example, offer tranquil residential neighbourhoods. They are nevertheless close to the city centre for people looking for a calm vacation. One can have the best of both worlds at these sites since they offer the ideal balance of tranquillity and accessibility.
Options to Fit Every Lifestyle and Budget
Dehradun's rental market accommodates a wide range of lifestyles and price ranges. This makes it possible for families, and professionals to choose a house that satisfies their needs. There are numerous options, ranging from independent homes and villas to apartments and flats.
Gated residential developments like Sahastradhara Heights, Pacific Hills, and Silver Rock Apartments provide a variety of apartment alternatives and amenities. These include swimming pools, gardens, and leisure spaces if you like a sense of community and shared amenities. Many people find these complexes to be desirable since they frequently offer more convenience and security.
Tips Exploring The Dehradun Rental Market
Careful research and planning are needed to find the ideal house for rent in Dehradun. For assistance navigating the rental market, consider the following advice:
• Decide What Matters Most To You
Placement, proximity to facilities, access to transit, and the size of the home that best meets your needs are just a few to take into account.
• Create A Spending Plan
Establish your monthly rental budget and make sure it is in line with the resources. Do not forget to include extra costs like utilities, maintenance fees, and security deposits.
• Work With Regional Resources
Use internet real estate directories, classified ads, and neighbourhood real estate agents to research the possibilities. In addition to assisting you in finding suitable houses, they can offer insightful information about the market. Visit the place
Visit the properties that have been shortlisted to evaluate their condition, facilities, and suitability as a whole. Never be afraid to seek clarification on any uncertainties one may have.
Conclusion
For those looking for houses to rent, Dehradun offers a variety of alternatives. The city offers the ideal fusion of metropolitan conveniences and unspoiled natural tranquillity. Thanks to its scenic beauty, agreeable climate, and variety of residential zones. Find your dream home in Dehradun by looking into the possibilities and taking your particular requirements into account.